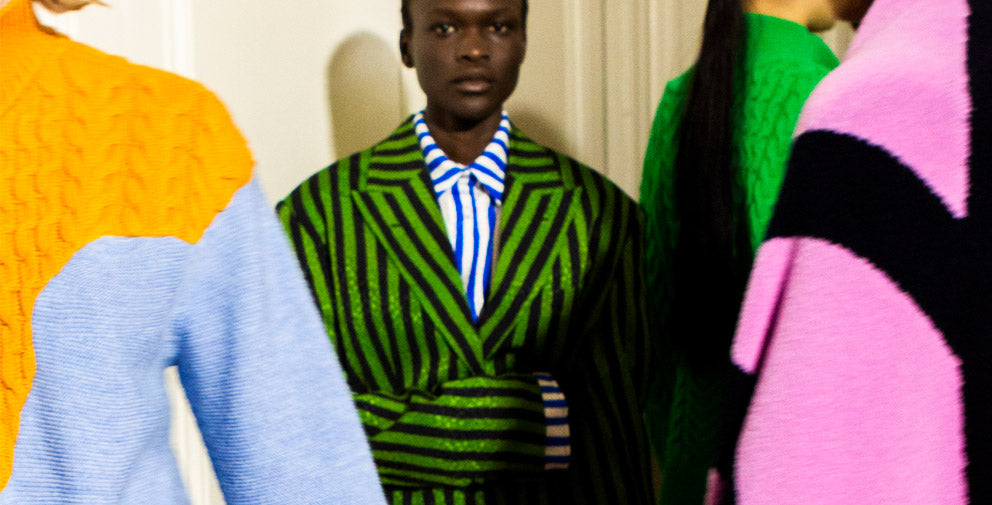 The New Guard // 8 new labels coming to Camargue
The New Designers Coming to Camargue
For the upcoming season we've made a commitment to push the boundaries, have a little fun and dive head first into experimenting with our brand mix.
With this goal in mind, we're excited to announce that eight new labels that will be joining our current curation of much-loved brands.
We hope that you'll be as excited about them as we are, a lot of thought has gone into selecting new designer collections that will complement our clients lifestyles and showcase the best of fashion; from newcomer talents to legends in the field.
 Introducing //
Nackiyé
Brand new to Camargue, Nackiyé produce individually designed artisanal garments influenced by the charm of the eastern mediterranean. 
Created by sisters, Basak & Defne Kocabiyikoğlu, the label's name is of Turkish origin taken from their great grandmother's name and their brand is an ode to childhood days spent in sleepy fishing towns that transformed into glitzy resorts filled with glamour, socialites and endless parties over the summer months.
Now with the modern globetrotting woman at front of mind, it's no surprise that Nackiyé designs lend themselves to a 'yacht by day, drinks by night' type of routine. 
With a collection of showstopping exaggerated sleeves, bright block-coloured dresses, and silk kaftans Nackiyé is the perfect label to look to for your next special occasion.
Christian Wijnants
Camargue is proud to announce the arrival of the Christian Wijnants brand to the fold.
Hailing from Belgium, Christian Wijnants gained invaluable skills working as an assistant to fashion master Dries Van Noten after graduating from the prestigious Royal Academy of Fine Arts in Antwerp in 2000.
His close association with long-time Camargue favourite Van Noten, meant that the decision to stock Wijnants was an easy one.
Known for his bright colour palettes, unique prints, abstract graphics and clashing patterns, Christian Wijnants has become a must-see show during Paris Fashion Week and has attracted numerous accolades, including the prestigious Woolmark & Swiss Textiles Award for his luxurious knitwear.
Junya Watanabe
We're once again extending our Japanese fashion offering with legendary Junya Wantanabe now available in-store and online.  
As a protégé of Camargue icon and Commes des Garçons founder, Rei Kawakubo, Wantanabe was the natural next addition to our collection.  
As a young designer he impressed during his studies at Bunka Fashion College in Tokyo and quickly took on the role as patternmaker in Kawakubo's fashion house before designing under his own name in 1993.
Watanabe is best known as an extremely gifted patternmaker and his designs have been referred to as "techno couture" because of their play on volume, unusual structures, their and technical materials. However you describe them, Watanabe pieces are always individual and eye-catching.
Gary Bigeni 
With great pleasure, we welcome Gary Bigeni to the Camargue collection.
Bigeni has been a key player of Australian fashion for over fifteen years. A little bit eclectic, a little bit playful, Bigeni is known for highly wearable colour and prints that adorn classic silhouettes.  
An alumni of Sydney Institute of Technology, Bigeni launched his namesake label in 2003 wowing both industry insiders and discerning shoppers with pieces that can effortlessly inject fun into women's wardrobes.
We like to think of his pieces as work-wardrobe appropriate with a distinct added flavour. Expect to see metallic silver and plenty of polka dots feature within our first season of Gary Bigeni.
Totême
International style icon, Elin Kling gained unrivalled online traction as a founding force in defining Scandinavian style with her fashion blog that began in 2007. She was influential before influencers was a common turn of phrase, enjoying a vast following and a well respected online presence.
As a natural progression, and proving her taste in fashion was also able to extend to design, Kling launched Totême, a fashion and accessories brand which she co-founded with her husband, Karl Lindman in 2014.
Created in their Stockholm studio, with a focus on timelessness, minimalism, crisp simplicity and quality fabrications, Totême is as pragmatic as it is luxurious.
If a timeless, 'go-to uniform' with a Swedish sensibility appeals to you then you're in luck as Totême is coming to Camargue very soon.
Aesther Ekme
Founded in Copenhagen by Stephanie Park in 2016, Aesther Ekme specialises in a precision edit of top quality leather accessories.
With minimal clean lines, no fuss and absolutely no unnecessary embellishment, Aesther Ekme handbags are able to hone in on the purity of their forms.  
While seriously simple, the styles are by no means under-the-radar with a range of architectural silhouettes that include bucket, totes and barrel bags.
Created in mostly block colours in classic neutral tones these sleek, timeless pieces are the handbags you will want to reach for day in, day out.
The brand name is from the Turkish indigenous, Crimean Tatar language and roughly translates to 'a classic shoulder bag'.  We look forward to sharing Aesther Ekme accessories with you.
Anntian
Anntian is a Berlin-based clothing label and the brainchild of graphic designer, Anne Hilken and fashion designer, Christian Kurt.
Just as the brand name is a blend of both of their first names, Anntian is a combination of their respective expertise in both garment and graphic design.
Anntian is a label for the non-conformist fashion lover and their original collection of hand-painted dresses and pieces are full of hidden details and unexpected drapery.
We also love that their mission is to counter fast fashion by working with small regional manufacturers using ecological fibres whenever possible.
View the Anntian collection of original silk dresses and more in-store and online now.
Mara Hoffman
Perfectly timed to turn holiday mode on, the new-in-store Mara Hoffman collection is making its way onto the Camargue floor.
A student of Parsons School of Design in New York, Mara Hoffman amassed a cult following for her feminine prints, swimwear and resort wear when she launched in 2000.
Fifteen years after the brand's inception, Hoffman's focus has shifted to sustainability and is a leading example of how environmental consciousness can meet wearable style. Eco fabrics such as tencel, organic linen and Japanese cotton have become a staple in the Hoffman range.
Camargue carefully selected the Mara Hoffman label because of its suitability to the Queensland lifestyle. We picture our clients wearing her breezy dresses, floral prints, and puffy sleeves on seaside holidays and tropical long weekends.
- 
We're proud to say that we'll be introducing many of these new brands to Australia for the first time, available exclusively at Camargue.