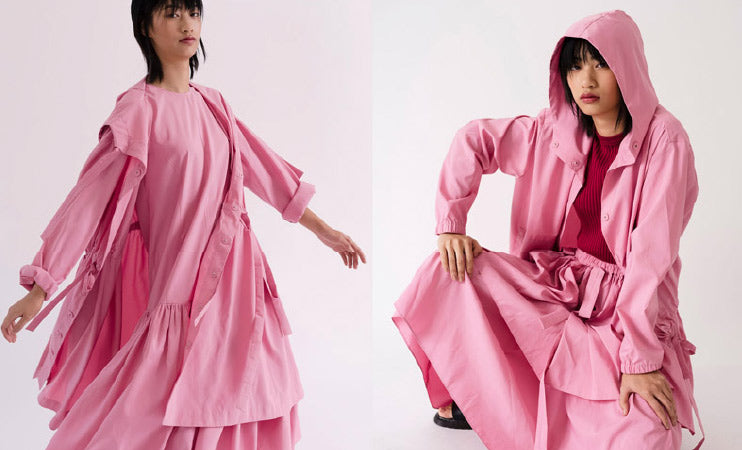 INTRODUCING // NEW LABELS TO CAMARGUE
Introducing Simone Rocha
The daughter of famed British designer John Rocha, Simone Rocha established her own eponymous label, building a highly-regarded label in her own right. Simone Rocha is known as being a brand of beautiful contradictions, with her tomboy-feminine aesthetic. In 2010 Rocha graduated from the prestigious Central Saint Martins, and then debuted her first collection at London Fashion Week that September. Since then, Rocha has become internationally renowned with numerous accolades to her name including British Fashion Awards for 'Emerging Talent, Ready to Wear' (2013) and more recently Harper's Bazaar Designer of the Year Award (2016). Her collections consistently embody a romantic spirit but with a rebellious, youthful edge. Rocha's forward thinking approach has learnt the designer a global cult-following, with women devoted to her unique accessories and ready-to-wear collections.
Simone Rocha is exclusive to Camargue in Queensland, Australia.
Re-introducting Sara Lanzi
Camargue is excited to welcome back our old friend Sara Lanzi with her Spring Summer 2019 collection. Originally launching the label in 2005 to near-immediate acclaim, Sara Lanzi's eponymous label has been quietly growing, with Rei Kawakubo of Comme Des Garcons mentoring the self-taught designer. Sara Lanzi's collections embue a sense of modern femininity – whimsical but with an ease of simplicity. With a minimalist approach to both her craft and aesthetics, Sara Lanzi creates understated, elegant womenswear.
Sara Lanzi is exclusive to Camargue in Queensland, Australia.
Introducing Enfold
As Australia's first stockist of the Japanese label, we are excited to introduce Enfold to our unique curation of Japanese brands. Launched in 2012 by Mizuki Ueda, a self-taught designer who began on the shop floor before making the leap to launch her own label, Ueda strives to offer easy to wear, conceptual basics. The label has become known for their minimalist look in versatile designs. Enfold's range of oversized coats, blouses and effortless skirts come in muted shades and vibrant hues with an emphasis on luxurious fabrications and detailed accents.
Enfold is exclusive to Camargue in Australia.
-
Shop in store now.